Aarsleff has the specialist plant and labour to carry out all types of drilling and grouting works from the filling of redundant coal mines to chemical injection using tube a manchette. Drilling and grouting can be used for soil stabilisation, waterproofing, soil mixing to increase the strength of soil and many other applications.
Shallow voids pose a risk to surface buildings and sub-surface infrastructure because collapse of the ground overlying the voids can result in voids migrating to the surface, leading to crown-hole development. This poses a risk to both foundations, structures themselves, and below-ground infrastructure. One option for remediation is bulk filling of these voids by drilling and grouting.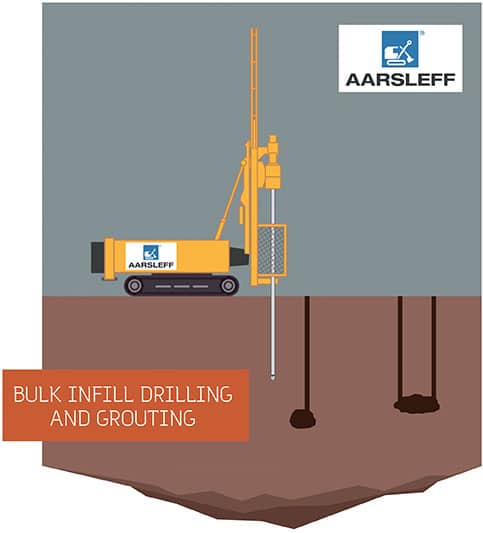 Holes for drilling and grouting are generally spaced on a square grid. The drilling process involves rotary percussive rigs, firstly installing casing seated into rockhead, then drilling to 1m below the base of the seam. Commencing at the lowest dip side, grout is injected through a flexible tube called a tremie from the base of the drilling hole to the surface.
For more information about Aarsleff Ground Engineering or to send in your enquiry, call 01636 611140 and speak to a member of our expert team today, or drop us an email 
As an official member of the British Drilling Association, Aarsleff Ground Engineering has the specialist plant and people to carry out all types of drilling and grouting works. The technique can be used for the consolidation of abandoned mines and soil mixing to stabilisation of soil and compaction grouting. We can also treat mine shafts up to 75-100m deep including filling open shafts with granular material, stage grouting, grout caps and reinforced concrete caps
Aarsleff can perform drilling and grouting in limited working space, with the ability to manoeuvre and grout around structures to consolidate soil, particularly beneficial for existing commercial or residential areas or to prevent against collapse of redundant voids associated with mine working tunnels, sewers, sinkholes and culverts.
Aarsleff understands that every site presents its own unique challenges, so you need a bespoke approach to find the best solution. We don't just deliver: we work with you from the outset, designing schemes that meet all regulatory requirements providing you with a value engineered solution. Working with our in-house geotechnical experts, the drilling and grouting team offer the following services:
Comprehensive rotary drilling site investigation services.
Stabilisation of shallow mine workings.
Stabilisation of mine entries.
Drilling services for standard and restricted access projects
Bulk infilling and grouting services for:
Tunnels
Culverts
Cellars
Sewer systems
Sub surface voids
Sinkholes
Soil Nailing/Soil Nails
Ground anchoring
Geotechnical drilling
Compaction grouting to stabilise granular and fine-grained soils
Borehole drilling for ground-source heat pumps.
Download Bulk Infill Grouting Datasheet
Benefits
Well established method
Maintenance free
Grouting can prevent the collapse of granular soils, settlement under adjacent foundations, groundwater movement, utilities damage and tunnel run-ins
Increases soil strength and rigidity
Reduced ground movement
Groundwater control
Predictable degree of movement
Jet Grouting is the safest method of underpinning construction
Can be performed in limited working space
Designable strength and permeability