Drilling and Grouting treatment works undertaken to preserve and protect green land in a new residential area
In May 2021, Aarsleff Ground Engineering was appointed to service drilling and grouting treatment works by the LK Group, who are a multidisciplinary environmental consultant and specialist. They specialise in the planning and execution of projects that unlock unusable land and transform it into prosperous usage. The LK group are the main contractor, who are completing works on behalf of the end client, Bury council who are building new houses in Radcliffe, located in the borough of Manchester. The LK group required intelligent land remediation assistance to stabilise the soil and ground layers and, in addition, preserve the rooted Greenland on-site.
The drilling and grouting design consists of holes spaced out on a staggered square grid…. Read the full case study here.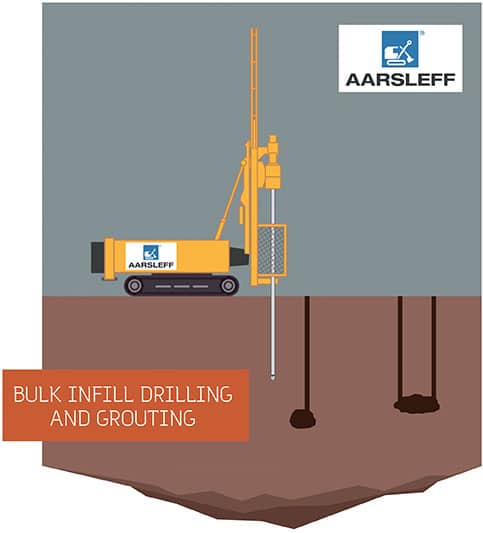 Drilling and Grouting Treatment works 
Shallow voids pose a risk to surface buildings and sub-surface infrastructure because collapse of the ground overlying the voids can result in voids migrating to the surface, leading to crown-hole development. This poses a risk to both foundations, structures themselves, and below-ground infrastructure. One option for remediation is bulk filling of these voids by drilling and grouting.
Holes for drilling and grouting are generally spaced on a square grid. The drilling process involves rotary percussive rigs, firstly installing casing seated into rockhead, then drilling to 1m below the base of the seam. Commencing at the lowest dip side, grout is injected through a flexible tube called a tremie from the base of the drilling hole to the surface.
Drilling and grouting can be used for soil stabilisation and waterproofing to increase the strength of soil.
Drilling and grouting treatment is commonly used for:
Sinkholes

Underground structures

Abandoned tunnels, mines sewers

Groundwater control
The main advantages to drilling and grouting are:
Treatment can be performed in restricted areas due to the nature of the application
Treatment can be performed with reduced impact on normal site day-to-day operations
It is a cost-effective solution
As an official member of the British Drilling Association, Aarsleff Ground Engineering has the specialist plant and people to carry out all types of drilling and grouting works. The technique can be used for the consolidation of abandoned mines and soil mixing to stabilisation of soil and compaction grouting. We can also treat mine shafts up to 75-100m deep including filling open shafts with granular material, stage grouting, grout caps and reinforced concrete caps.
For more information about Aarsleff Ground Engineering or to send in your enquiry, call 01636 611140 and speak to a member of our expert team today, or drop us an email