Aarsleff Ground Engineering offer Driven precast concrete piles to its clients. We manufacture all our precast reinforced concrete piles at our sister manufacturing facility in Nottinghamshire UK, Centrum Pile. In this way, we are very flexible and able to deliver from day to day.The precast concrete piles generate no spoil or arising from the installation and remove the need for additional traffic movements in and out of the site. On urban brownfield sites in particular, there is also no hazardous waste to dispose of.
Precast piles are gaining popularity. Where does this change come from? Until recently, special foundations were used in the implementation of only the most complex and large construction projects. Currently, due to progressive development, and thus – less and less available plots with simple ground conditions, they are used even when building single-family houses or small service facilities. Thus, if we have a picturesque plot, but are accompanied by complicated ground conditions, we do not have to give up the construction of our dream house. Just put on precast piles!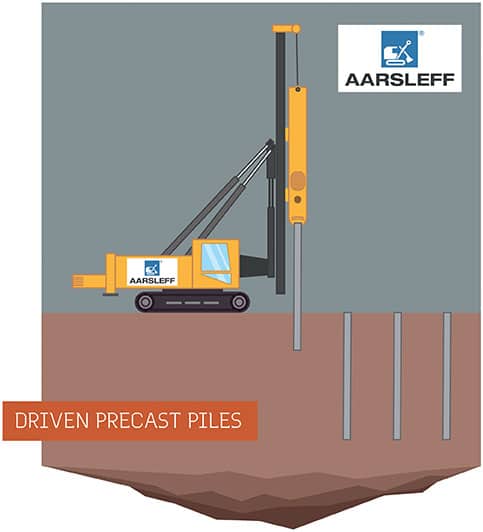 For more information about Aarsleff Ground Engineering or to send in your enquiry, call 01636 611140 and speak to a member of our expert team today, or drop us an email 
Over many years the Aarsleff team have built up a reputation for expertise and integrity when it comes to providing technically innovative solutions to civil engineering foundation problems.
Areas of involvement include road construction, water treatment facilities, canals, coastal protection and major rail projects like the Channel Tunnel Rail Link, where Aarsleff manufactured and installed hundreds of 600 mm square section precast concrete piles, the only project of its type in Europe.
Our engineers welcome the chance to work with project designers from early stages to ensure a value engineered option incorporating optimal performance to meet design load demands and programme.
Did you know?
As an international company the Aarsleff Group can provide all kind of technologies within ground engineering.
By clicking on the button below you can learn more about the different disciplines in the Aarsleff Group.