Aarsleff Ground Engineering has the specialist plant and expertise to install contiguous pile retaining walls. Contiguous pile walls are constructed with nominal gaps between adjacent piles and are mainly installed using suitable piling techniques. Ideal in crowded urban areas, where alternative retaining methods would not be applicable and where development space is limited. The gap between each pile is typically 150mm and can be constructed to provide load bearing capacity. Contiguous pile walls are ideal when groundwater ingress is not an issue for the finished wall. Read some of the advantages today.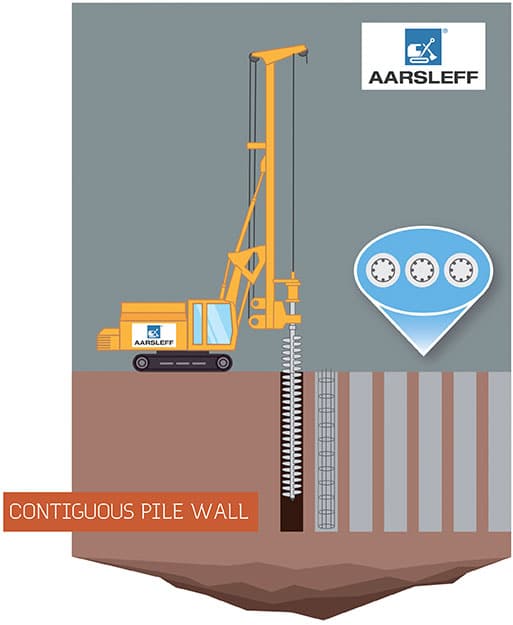 For more information about Aarsleff Ground Engineering or to send in your enquiry, call 01636 611140 and speak to a member of our expert team today, or drop us an email 
This type of retaining wall is used on a wide range of engineering projects such as ground stabilisation, underpasses and basement walls. This method is suitable in a variety of soils where groundwater lies below the maximum excavation depth.
All of Aarsleff Ground Engineering's Specialist Retaining Walls are designed in-house by our highly experienced design engineers,  with the capabilities to create efficient bored pile wall solutions as a cost-effective solution to your next earth retaining project or requirement.
Contact our Senior Technical Estimator Ashley Carter for more information and expert advice via email or phone: 07990 006639
Download Specialist Retaining Walls Brochure