Why does a site need piling?
It's a technique Aarsleff Ground Engineering are known for, and yet it's still a common question we face from those outside of our industry, every single day.
Piling is not a new technique, in fact its ancient! It has origins in the 5th century BC (Google The History of Herodotus), and has since been used in the foundations for everything, from residential houses to huge industrial warehouses and off-shore wind farms.
So what is Piling?
Piling is a type of deep foundation, used to transfer the load to a deeper level than is possible with a traditional shallow foundation. Vertical columns of concrete, steel or timber, or a combination, are driven deep into the ground to give extra support to the building that sits on top. When conditions require, Aarsleff Ground Engineering can install all three on one site.
Traditionally piles were made of timber, but they're now usually concrete, often reinforced or in-situ. The latter is the most common type of piling method currently used in the UK, but here at Aarsleff Ground Engineering we like to follow the lead of European construction and offer the alternate (the more cost-effective and sustainable alternative).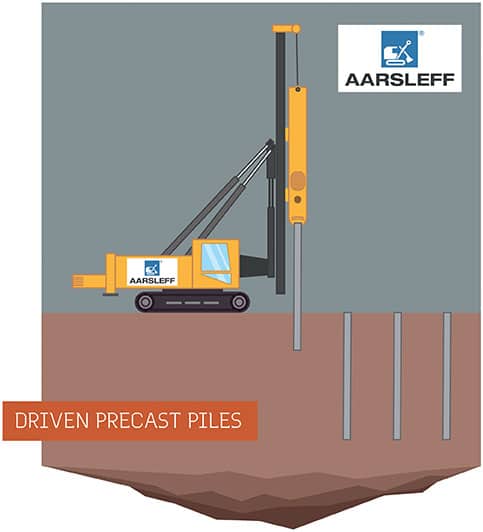 Did you know that much of mainland Europe consider precast driven piling the norm for many project types?
We're so passionate about our driven piling solutions that in 2017 we collaborated with the University of Sheffield to co-write a technical paper titled 'Challenging the Perception of Precast Piles'. The paper has since become highly regarded in the industry, and has been published by Ground Engineering Magazine and the Telegraph .It is also available to download for free on our website – just click here. The paper details an array of benefits that precast piling bring, with a nod to the governments favouring of offsite construction methods by 2019.
 So, why does a site need piling?
A traditional shallow foundation is enough when the ground is suitable and the load it has to support is moderate, but there are many ways for the ground to be unsuitable, so that piling is strongly advised.
The water table is high.
The soil is of a type whose stability will be affected by water.
Deep trench foundations from a previous building would be too expensive to remove.
Existing foundation trenches are unstable.
The ground is unsuitable for more than two metres.
The nature of the load requiring support.
For more information about Aarsleff Ground Engineering or to send in your enquiry, call 01636 611140 and speak to a member of our expert team today, or drop us an email