King Post Walls, also known as Soldier Piles, are some of the oldest forms of retaining systems used in deep excavations. King Post Walls have successfully been used since the late 18th Century in metropolitan cities like New York, Berlin, and London.
What is a King Post Wall?
King Posts are isolated steel columns that are installed along the line of the proposed retaining wall typically at centres between 1 and 3m. The space between the posts is filled, over the retained height, using a variety of different solutions but most commonly a precast concrete panel.
And its design?
King Post Walls can be designed to Eurocode 7 or British standards and can be analysed in the temporary or permanent conditions. The design life of a King Post Wall is generally 50 years or more depending on the requirements.
How is a King Post Wall installed?
The method of King Post Walls involves drilling a hole with a high powered CFA, large diameter or mini piling rig and then filling it with concrete and installation an H beam. This allows concrete pre-stressed panels to be inserted between the webs of the H sections, which after excavation results in the finished embedded retaining wall.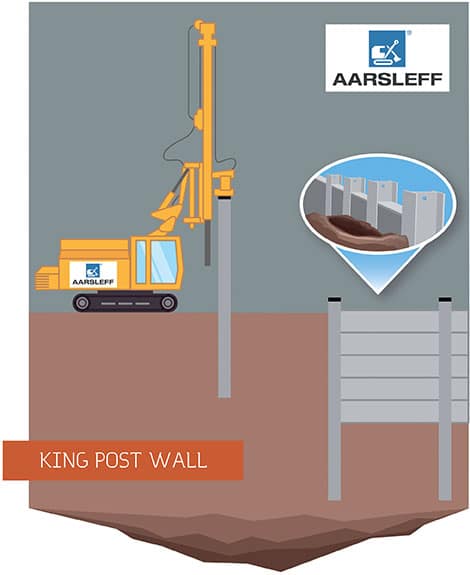 King Post Wall Installation
The major advantages of King Post Walls are:
King Post Walls are fast to construct
King Post Walls can be cheaper when compared to other retaining systems such as sheet piled and concreted piled walls
King Post Wall installation is versatile and adjustments can be made in the field easily to accommodate changes
King Post Walls are a simple and quick installation making it a smooth transition on handing over to follow on trade
King Post Walls may be used for different retention applications and heights in different ground conditions, including rock.
Applications are numerous including basements, embankment retention and flood defence walls
 Relatively silent and vibration free installation
Procurement of locally sourced materials
King Post Corners can be fabricated off site so that no on site hot works are required on site. This reduces risk on site as well as saving time and money
Cost effective system for use in hard ground
Can be tied back with Ground Anchors
No spoil generated on site
Piling is unaffected by ground water
To download our Project Storyboard for one of Aarsleff's King Post Wall projects in Sheffield, please click here 
For more information about Aarsleff Ground Engineering or to send in your enquiry, call 01636 611140 and speak to a member of our expert team today, or drop us an email