Aarsleff Ground Engineering offers a range of Sheet Piling solutions to its clients in the UK. Permanent retaining walls utilising sheet piles are used on schemes large and small, from simple projects to complex slope stabilisation solutions. They offer cost-effective alternatives to contiguous and secant concrete walls. They may be designed to both retain temporary excavations and to act as the permanent retaining structure, often in conjunction with the base slab which offers propping to the wall. Sheet pile walls are commonly used in service yards of commercial and retail sector developments, flood defence schemes, bridge abutments and boundary walls. Sheet pile retaining walls have distinct advantages over concrete contiguous and secant walls. Besides being more cost-effective, they require no curing time before excavations can commence, thus allowing shorter programmes.
As a contractor who specialises in Sheet Piling, Aarsleff's work revolves around certain key construction features: sheet pile basements; permanent retaining walls; temporary sheet piling; conventional and marine sheet piling; steel bearing pile foundations; and temporary and permanent anchors. Our methodologies include the use of techniques such as silent, vibration-free piling and telescopic leader rigs, as well as conventional driving equipment.
Sheet Piling Contractor Aarsleff Ground Engineering, offer the following specialist retaining wall solutions:
Propped Walls
Cantilever
Anchored Walls
King Sheet Piled Walls (KSP)
Conventional and Marine Sheet Piling
Permanent Retaining Walls
Temporary Sheet Piling
Sheet Pile Basements
Cofferdam
A Cofferdam is a temporary structure built within, or in pairs across, a body of water and is constructed to allow the enclosed area to be pumped out. This pumping creates a dry working environment for the major work to proceed. Cofferdams are generally required for foundations of structures, such as bridge piers, marines, harbours, ports, docks, locks, and dams, which are built in open water or used on land where there is a high groundwater table. Cofferdams consist of a relatively impermeable wall built around the periphery of the proposed excavation, comprising welded steel structures, with components consisting of sheet piles, wales, and cross braces. Such structures are typically dismantled after the ultimate work is completed. A Cofferdam can be constructed in almost any desired shape. However, for practical and reasons of economy, most cofferdams are either rectangular or circular.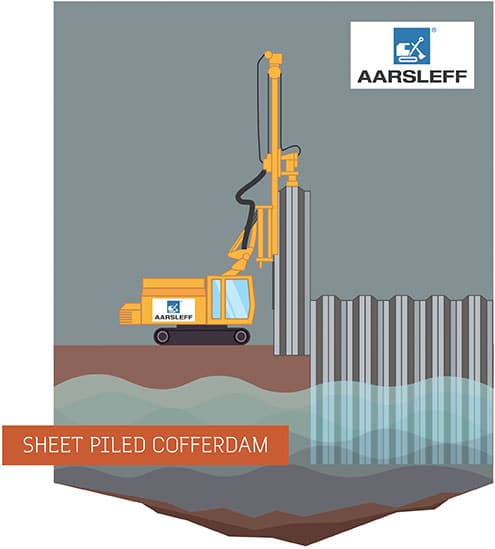 Through close relations with clients, developers and principal contractors, Aarsleff's sheet piling team are able to help develop successful projects, built on reliable and relevant methodologies, whether these relate to permanent installations or temporary ones. We will address each project and suggest alternative approaches if it appears to us that a project would benefit from a different approach and we can save the client time, money and hassle, by offering an expert view on how a job could be tackled in a more appropriate manner.
Whatever the client's remit, problem or challenge, if it involves sheet piling, we can engineer an approach to help fulfil or tackle it. Aarsleff Ground Engineering is the Sheet Piling Contractor for you.
Download Specialist Retaining Walls Brochure