Secant Pile Walls are formed by constructing intersecting reinforced concrete piles. The secant piles are reinforced with steel rebar and are constructed by various methods. Secant pile walls use cast-in-situ methods. They are constructed with the female/soft piles first, with the male/hard piles constructed afterwards, intersecting the female/soft pile. Secant walls are designed to be water resistant. Secant pile walls are usually installed as retaining structures and support systems for deep foundations, retaining elements and at the same time load-bearing walls for engineering constructions. A secant pile wall is a cost effective alternative to diaphragm wall construction. VDW stands for 'vor der wand', or 'in front of the wall'. It is a vibration-free and low noise drilling procedure used for installation of single piles, as well as contiguous, tangential or secant pile walls.
Secant Pile Wall Installation Method:
Secant Pile Wall Installation Illustrations: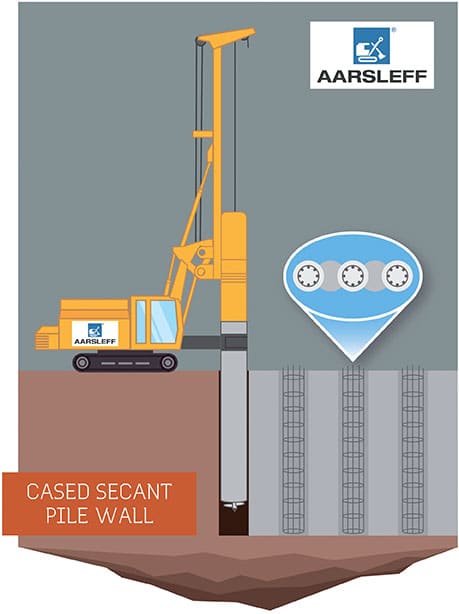 For more information about Aarsleff Ground Engineering or to send in your enquiry, call 01636 611140 and speak to a member of our expert team today, or drop us an email 
The main advantages of secant pile walls are:
Increased wall stiffness compared to sheet piles
Can be installed in difficult ground (cobbles/boulders)
Less noisy construction
Secant walls can be used to form a continuous watertight wall which can be an added benefit for the construction of basements and underground car parks.
Contact our Senior Technical Estimator Ashley Carter for more information and expert advice via email or phone: 07990 006639
Download Specialist Retaining Walls Brochure