Mini Piling contractor Aarsleff Ground Engineering specialise in the design and installation of mini piles from 100mm diameter to 600mm diameter and can install Grundomat piling, Sectional Flight Auger, and/or Driven or Augered Mini Piles. Mini Piles are often utilised in sites with difficult or restricted access, or with environmental sensitivity. Mini piles are used to strengthen existing structures such as bridges, retaining walls, floor slabs and can be used as an alternative to traditional underpinning. Aarsleff's in house design team provide a fully insured mini pile design service. Rest assured that Aarsleff will provide you with the most competitive quote for mini piles which fits your project and budget.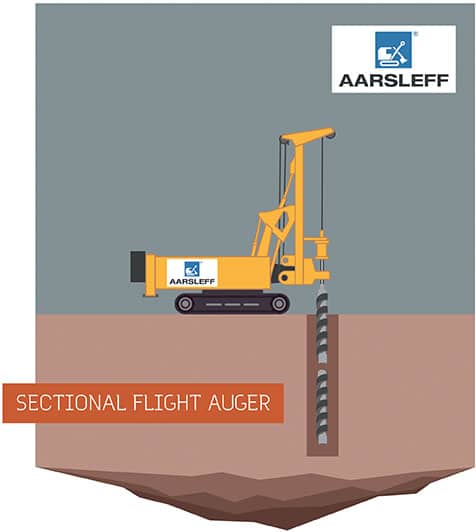 For more information about Aarsleff Ground Engineering or to send in your enquiry, call 01636 611140 and speak to a member of our expert team today, or drop us an email 
We carry out several types of Mini Piling, often in confined spaces, like a small house extension, a retrofit basement or an underground car park, since the equipment deployed is significantly smaller than what's required for traditional piling. It's also ideal for built-up areas, since it causes less noise and vibrations, while still producing secure foundations.  It's a cost-effective method for use on difficult underpinning projects.
Benefits
Work extremely well both in tension and compression
Fast installation times
Can be installed in confined spaces
Mini piles cause minimal disturbance/vibration to adjacent structures during the installation
With suitable ground conditions they can be installed cost effectively, with high load capacities
They can be installed in areas presenting difficult access and/or overhead clearance
They can be structurally incorporated into existing foundation systems
Can work within low headroom in restricted working conditions
Virtually vibration free
Can be used for small house extensions and detached plots
Why choose Aarsleff Ground Engineering as your mini piling contractor in the UK?
Aarsleff Ground Engineering can work on a wide range of schemes- whether it's multi-use residential developments, hospital and health care buildings, schools and universities, commercial units that need a variety of pile types, or infrastructure like rail, embankments and roads.
Applications
The size of the mini pile is determined by the load-bearing capacity of the ground and the size of rig that is able to access the piling location. They can be driven or screw piles and tend to be used where access is restricted, for example underpinning structures affected by settlement. They were first used in Italy in the 1950's in response to the demand for innovative underpinning techniques that could be used for historic buildings and monuments.
They are particularly suited to:
Shallow bedrock.
Boulders and cavities.
Immediate hard strata.
Where underpinning is required, such as for foundations adjacent to planned excavations.
Small house extensions and retrofit basements
Mini piles can also be used in combination with other ground modification techniques where complex site conditions and design specifications are present.
Contact us today about your Mini Piling requirements – enquiries@Aarsleff.co.uk