Aarsleff Ground Engineering have announced a new, 5-year term, charity partnership with YMCA Newark and Sherwood.
The agreement is a wide reaching one, covering a donation of £22,500.00, with sponsorship branding and pre-agreed usage of the conference/banqueting facilities at the Village for staff/team meetings and wider businesses conferences only three facets of the wider partnership.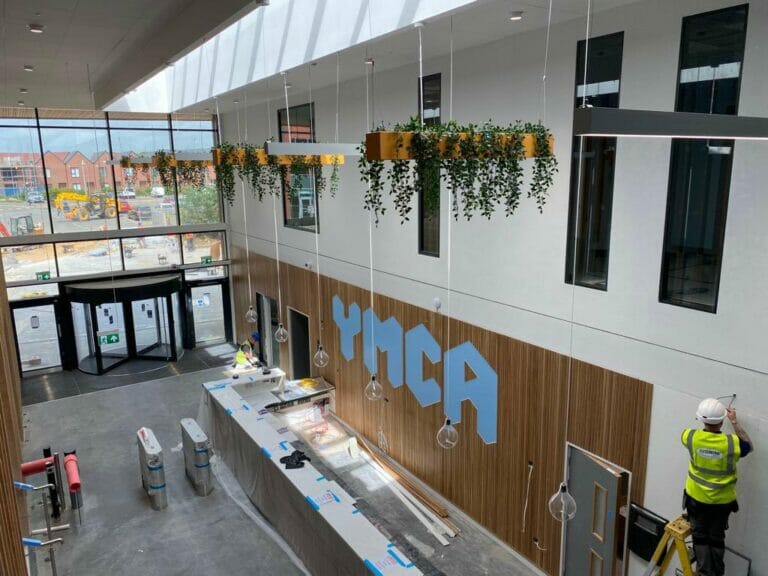 Nottinghamshire YMCA supports healthy living, youth development and social responsibility by delivering varied frontline services across the region to build stronger communities that empower young people to belong, contribute and thrive. The Community and Activity Village in Newark is extremely close in proximity to Aarsleff's main headquarters and was therefore, a perfect opportunity to show support to the local charity and the vision for the Village to support young people, their families and the wider community with life-changing services and experiences in Newark. Additionally, Aarsleff have agreed to several skills/learning workshop sessions lead by our staff, for the benefit of YMCA Newark & Sherwood's service users and are prepared to offer apprenticeship opportunities across the course of the 5-year term.
"We are absolutely delighted to be partnering with YMCA Newark & Sherwood," says Kevin Hague, Managing Director. "We're excited for Aarsleff Ground Engineering to be in partnership with such a worthwhile cause and such an ambitious project to directly tackle social mobility in the town we're headquartered in."
"Our partnership will allow us to use the site for a number of meetings and conferences whilst developing our staff, who will be delivering a number of skills and learning workshop sessions on site for the benefit of YMCA Newark & Sherwood service users who would like to explore career opportunities in the ground engineering industry. We believe this is just the start of an exciting long-term partnership. We've enjoyed getting to know the team, we're excited to begin fundraising for them, and look forward to working together closely beyond partnership launch."
At its core, Aarsleff are steeped in a desire to give back. Since the company's inception in 1947 and incorporation in 1991 in the UK, Corporate Social Responsibility and Sustainable Development have played an integral role in Aarsleff's business operations. Ensuring a sound economic grounding and a strong position in the market, they also take into consideration the impact of their operations on the business environment, natural environment, and society. The feeling of giving back and Corporate Social Responsibility is central to this newly formed partnership, in continuing to evidence the commitment to Corporate Social Responsibility Aarsleff have selected YMCA Newark & Sherwood as its Charity of the Year for the next 5 years, and as such will be agreeing a staff/organisational yearly fundraising target.
YMCA Newark & Sherwood's Executive Director Todd Cauthorn welcomed the agreement.
"Our best partnerships are with ambitious organisations that take pride in the area around them, and how they can better impact it. Our partnership with Aarsleff Ground Engineering is a natural fit given their commitment to Newark, their global outlook, their values, and their desire to make a difference via sustainability and corporate social responsibility."