Piling contractor Aarsleff Ground Engineering offer H-Section piles to its clients. H-Section Piles are used extensively for deep foundation applications to add stiffness and support to sheet pile walls, King Post Walls and foundations.
H-Piles are steel beams that are driven into the earth by pile driving equipment. The tough and durable cross sections provide excellent driving characteristics when driving in difficult soil and rock conditions. Steel H-Piles are structural square beams that are available in a wide variety of sizes and can also be used for marine structure applications.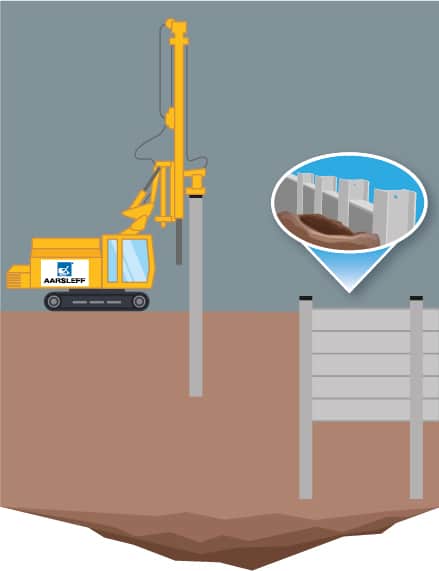 For more information about Aarsleff Ground Engineering or to send in your enquiry, call 01636 611140 and speak to a member of our expert team today, or drop us an email 
Suitable for uncertain ground conditions
They can be driven deeper than precast piles to depths of 50 meters or more
They are easy to adapt for unforeseen soil conditions, along with being able to be driven through obstructions and hard ground conditions
They can be driven using minimal vibration driving methods
Can come in a wide variety of sizes to suit the conditions
Did you know?
As an international company the Aarsleff Group can provide all kind of technologies within ground engineering.
By clicking on the button below you can learn more about the different disciplines in the Aarsleff Group.