Aarsleff Ground Engineering has the capability and experience of installing SFA piles in restricted access sites where space is limited.
What are SFA piles?
Sectional Flight Auger (SFA) is a method of restricted access piling which provides the ability to install piles in low headroom and difficult access sites. With a wide range of rig types, there is no compromise when installing SFA piles, with pile sizes ranging from 200mm Ø to 600mm Ø most common, and lengths up to 25.0m
The method is similar to Contiguous Flight Auger (CFA) piling, except the auger is made up of shorter sections that interlock together. Once one section of auger has been drilled in, another can be attached and the drill can continue. This allows for the pile length not to be restricted to the height of the working zone. SFA piling is suitable for ground without embedded obstructions and when the water-table is high.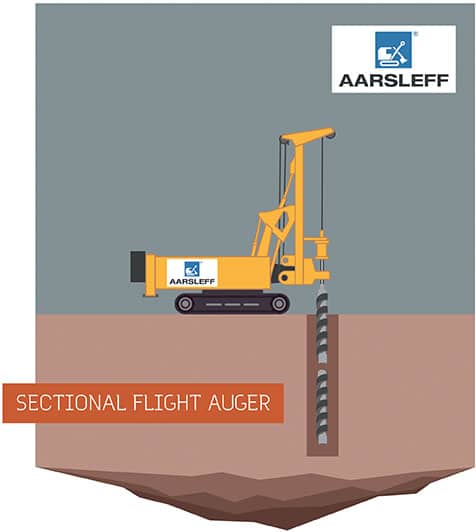 Aarsleff has a wide range of versatile drilling rigs capable of installing SFA piles in minimum of 2.5m headroom and pile diameters up to 600mm.
For more information about Aarsleff Ground Engineering or to send in your enquiry, call 01636 611140 and speak to a member of our expert team today, or drop us an email