Extends to UK-Wide Ground Beam Proposition
Aarsleff Ground Engineering, one of the UK's leading contractors of driven precast piles, has signed a partnership agreement with Creagh Concrete Products Ltd, allowing them to manufacture Ground Beams under licence from its factory site at Hoveringham in Nottinghamshire.
The agreement, which commenced in February 2016, is a stepping stone for Aarsleff, who ultimately see the partnership extending to allow Creagh to manufacture Ground Beams at its many sites across the UK.
Speaking about the agreement Chris Primett, Managing Director Aarsleff, said: "The partnership agreement with Creagh Concrete Products presents a number of opportunities for Aarsleff. As well as ensuring certainty of supply of our popular Ground Beams across ultimately the UK, it allows us to work in collaboration with Creagh to offer complete packages to clients for pile, ground beams and flooring. Clients will benefit enormously from being able to specify complete solutions."
Since its introduction, Aarsleff's Ground Beam solution has proven extremely popular, as clients increasingly recognise the many benefits an integrated pile and ground beam solution brings without the need or complication of follow-on trades. The partnership agreement is just the first step of what will be an on-going sales relationship that will allow the offering to be extended to more clients.
For more information about the agreement with Creagh Concrete Products or Aarsleff's
Ground Beam Solution, contact Aarsleff on 01636 611140 or email info@aarsleff.co.uk.
Aarsleff's Notes to Editors:
Aarsleff Ground Engineering Ltd, trading as Aarsleff Ground Engineering, is a Division of Danish
contracting giant Per Aarsleff A/S, and is one of the UK's leading driven precast concrete
piling contractors and also has a long tradition for the installation of both steel and timber
piles.
Aarsleff Ground Engineering's strategy and philosophy of investment into the future has resulted in its
wholly owned subsidiary Centrum Pile Ltd having the most advanced precast pile production
facilities in the UK, producing segmentally jointed precast concrete piles to BS En12794 to
Class 1A.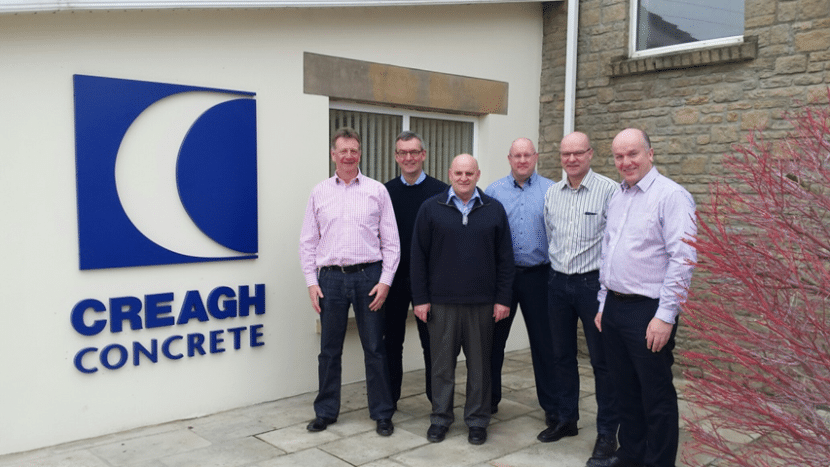 Pictured left to right:
Chris Primett – Managing Director – Aarsleff Ground Engineering Ltd
Lars Christensen – Director of Centrum Paele (Denmark)
John Stothard – General Manager of Creagh Concrete Products Ltd
Jeff Gaucher – Operations Manager – Aarsleff Ground Engineering Ltd
Soren Otte – Project Manager R&D Manager – Centrum Paele (Denmark)
Seamus McKeague – Managing Director – Creagh Concrete Products Ltd