Soil nailing contractor Aarsleff Ground Engineering design and install several types of retaining structures. Soil Nailing is a technique which is used for retaining walls and other projects, as a way of reinforcing the soil. Soil nailing can be used as a solution for both permanent and temporary retaining walls. As part of soil nailing, the slope or wall which is required to be stabilised first needs to be predrilled. Long steel rods are then put in place and grouted in firmly to hold the soil in place. If the soil contains corrosive elements, then the steel rods need to be coated in anti-corrosives to protect them. To give the soil optimum stability, a covering later fixes the rods in place.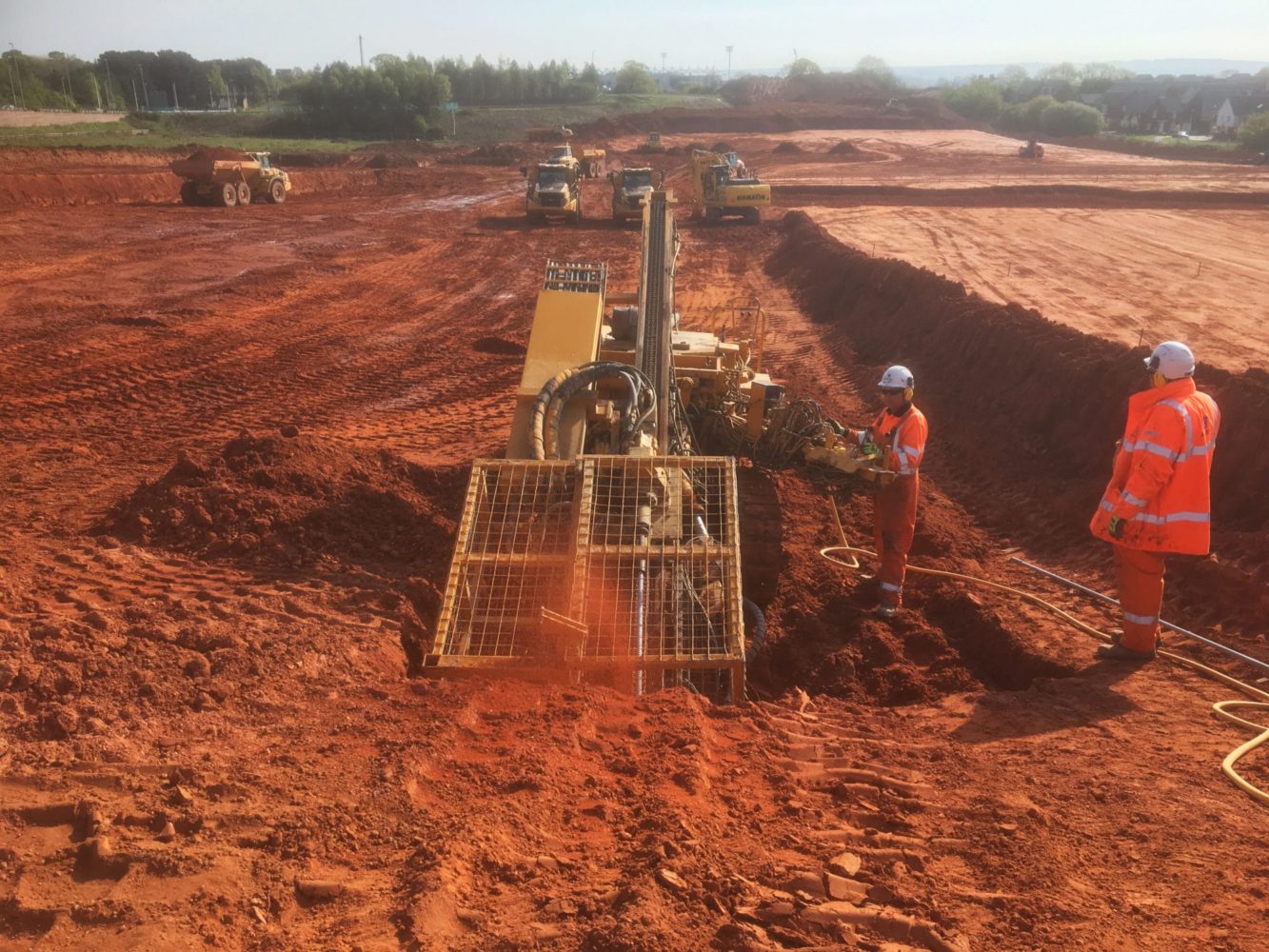 History
Soil nailing evolved from the New Austrian Tunnelling method which is a system for underground excavations in rock. This method consists of passive steel reinforcement in the rock followed by the application of reinforced shotcrete. This concept of combining passive steel reinforcement and shotcrete has also been applied to the stabilisation of rock slopes since the early 1960s.
The first application of soil nailing was implemented in 1972 for a railroad widening project near Versailles, France. Soil nails were used to stabilise an 18 meter (59 ft) high slope consisting of sandy soil. This method proved to be more cost-effective, while at the same time cutting down the construction time when compared to other conventional support methods. The United States first used soil nailing in 1976 for the support of a 13.7m deep foundation excavation in dense silty sands. Soil nailing was implemented in the expansion of The Good Samaritan Hospital in Portland, Oregon. This retaining system was produced in approximately half the time at about 85% of the cost of conventional retaining systems.
Advantages
It is ideal when working on sites which have a limited amount of space, as there is little need of room to manoeuvre.
Soil nailing can follow irregular and tight corners, as well as providing stability to the wall from the top to the bottom. This means that the soil can be secured whilst workers continue to dig down deeper.
It is a rapid and economical method
Grouting is only required once
Soil nails are not prestressed
Facing
After the soil nailing has been completed, shotcrete is commonly used to secure the reinforcing rods. There are also other options used, such as creating a green or living wall. The type of retaining wall used depends on the environment of the construction.
How are Soil Nails installed?
An excavation is started to expose a soil face – typically in a top down manner. Excavation is done to a depth for which the face of the excavation is able to remain unsupported for some time
Small diameter holes (typically 100-300mm) are drilling along the facing in a predetermined sequence to specific length and inclination, most commonly in horizontal spacing of 1-2m between each nail
Steel bars are then inserted in the predrilled holes and filled with clean cement grout (the migration of water towards excavation should be prevented)
A temporary shotcrete facing is applied, typically of 75-100mm thick. This will protect the excavated face and fill cracks and voids in the face too
The shotcrete can even be textured to resemble to local geology
The next level is excavated and steps 1-4 are repeated
A permanent wall facing is applied, typically of 150-300mm thick. It is applied in layers
Case Studies
Main contractor McLaughlin & Harvey Construction Ltd awarded Aarsleff Ground Engineering the contract to supply and install a soil nailed wall to support the construction of a new IKEA store in Exeter, just off Newcourt Way near Sandy Park. Soil nailing has the benefit of a top-down construction method and therefore was deemed to be the smartest solution to allow the development to progress without significant loss of usable land… Read more (PDF) 
Aarsleff Ground Engineering recently completed installing soil nails to repair and stabilise the failing wing walls on an existing bridge in Churchdown. Contracted by Taziker Industrials, Aarsleff installed 20No. 30-degree R38-550 self-drilling galvanised soil nails varying from 6 to 10 metres in length into the wing walls of the bridge…

Read more (PDF) 

The BNM Alliance awarded Aarsleff Ground Engineering the contract to design, supply and install a soil nailed slope to allow, with associated works, the launching of a TBM (Tunnel Boring Machine) for the Severn Trent Elan Valley Aqueduct Rehabilitation project in Wales….

Read more (PDF) 
The great advantage of soil nail walls is their cost-effectiveness over other alternatives. When conventional soil nailing construction procedures are used, soil nail walls are much more economical than concrete gravity walls as well as more cost-effective than ground anchor walls.
For more information about Aarsleff Ground Engineering or to send in your enquiry, call 01636 611140 and speak to a member of our expert team today, or drop us an email 
Discover more about the benefits of Soil Nailing in our Video